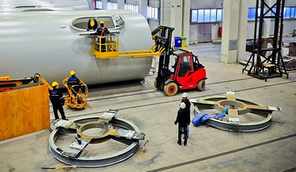 March 13, 2015
Iraeta Wind (GRI) reached an agreement to reinstate the former employees of TS Fundaciones
---
The last offer made by Iraeta Wind (GRI) is the highest of the three offers made (3,500,000 euros) and it has improved by 20% the one submitted by Euskapital.
Friday, March 13, 2015. Iraeta Wind, Renewable Industries GRI company has successfully completed negotiations with former employees of TS Fundaciones and it was the only company of the three involved that has reached an agreement with unions and workers that reflects framework conditions in which the reinstatement would occur once completed the liquidation process.
GRI also presented yesterday an offer that improves by almost 20% the best financial offer from the three raised by interested companies.
GRI has shown interest in acquiring TS Fundaciones since the beginning of the liquidation process. In fact, in the first stage of the process, GRI was the only company to submit offers to acquire two plants of the TS group. By not accepting this offer, the administrator let the settlement process to enter a second stage and GRI resubmitted the same industrial project and bid against its competitors.
Given all the information published, GRI wanted to dispel any doubts about the suitability of its bid by presenting, on Thursday the 12th, a new improved offer for the Sansinenea plant to the court, amounting to 3,500,000.
According to Javier Imaz, CEO of GRI, "GRI has proven to be the best industrial project, the best financial offer and the only one that has a written agreement with workers' representatives corcerning their reinstatement in the TS future project".
About GRI
GRI Renewable Industries (www.gri.com.es) was born in 2008 and it is the wind industrial division of Gonvarri Steel Industries. The company has currently 10 wind towers and flanges manufacturing plants in Spain, Brazil, China, Turkey, India and South Africa; and it supplies towers and high quality flanges in order to manufacture wind turbines worlwide. This has allowed the company to finish 2014 with sales of 450 million euros and about 3,000 employees.
About Gonvarri Steel Industries
Gonvarri Steel Industries (www.gonvarri.com), is a leading European industrial group in steel service centers and renewable energy components. In 2014, it has shown again all its dynamism by buying two companies: Çepas, in Turkey, and CENO, in Colombia, and by opening two manufacturing plants in Brazil, one in 2014 South Africa and other one in China. Its EBIDTA grew by 16% to 177 million Euros in 2014.